Transport in Cape Town for Tourists: 10 Ways of Getting Around Cape Town
2020-11-05 12:09:58
Many might agree that transport in Cape Town presents unique problems for tourists visiting for the first time. Or does it?
Well, with the right guide, you can put your mind at ease and GREATLY improve your transport options while in the Mother City. You may even end up experiencing more of this beautiful city than you expected.
In this post, we give you a Capetonian's guide to 10 transportation options in Cape Town and the unique benefit of each one. And, for the REALLY adventurous, we've thrown in a bonus eleventh option at the end.

Update 2019:
This article was first published in 2015, much of what was written then still applies, but back in 2015 Uber and Taxify weren't readily available in Cape Town and were quite expensive. These days they are both abundant and affordable, and would now both feature very highly as our most highly recommended, safe and affordable ways of getting around the city (other than hiring a car from Vineyard of course ?
A negative development has been the decline in the Metro Train "Service", which is unreliable and not that safe, it's not recommended for visitors to our fair city.
Uber or Taxify: High Tech Transport Solution
Like much of the globe, Uber has had an impact on transportation around Cape Town. It is an appealingly simple way to get around: just download the app, call up a car, and be on your merry way. You don't even need to carry cash (although that is now an option).
Uber offers the big benefit of no set route – the driver will take you exactly where you want to go. And because you don't have to drive, you get to enjoy the ride there. Of course, such convenience comes with a price, and Uber's biggest downfall is the amount you'll be asked to pay, especially for longer trips.
Golden Arrow: Cheap and Cheerful
The Golden Arrow bus network has been providing public transport in Cape Town since 1861, and is still going strong. They're not the most tourist friendly way of getting around, however, as they aren't able to take you to the more remote tourist destinations, and are not always the most reliable.
On the plus side, Golden Arrow buses are pretty reasonable, costing around R10 to R15 one-way. So if you're not in a hurry, and don't mind a less luxurious option, this might be the one for you. If not, there is a newer alternative.
MyCiTi Bus: Efficient and Easy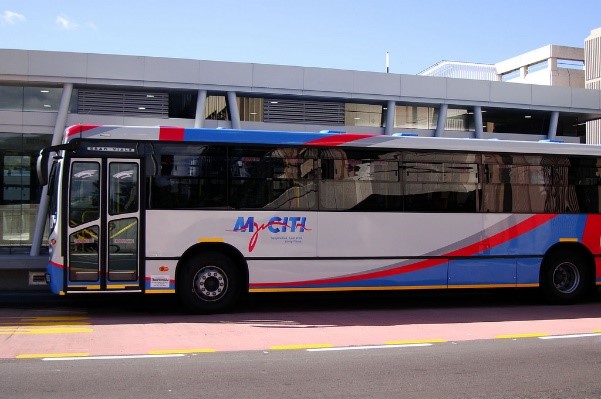 Still a fairly new addition to Cape Town, the MyCiTi integrated rapid transport network offers an easy and cheap way to get around town. While it is not as extensive as the older Golden Arrow network, these modern buses offer great public transport options for the city centre and a host of nearby landmarks, and the service now extends to:
Hout Bay on the Atlantic Seaboard
Table View and the Blouberg coastline North of the city
While offering a far more modern and reliable service than many other transport options, the MyCiTi service suffers from a lack of coverage. This is improving, but for the moment you'll not be able to use the MyCiTi to reach some of Cape Town's best sights.
The fares on the MyCiTi buses are calculated according to the distance traveled, and you'll need to buy one of the MyConnect cards (available at the stations or select retailers) and load enough money for your trip.
Metered Taxis: The Safe Option
In competition with Uber, there is always the option of metered taxis. Fares are always displayed on the outside of the car as a per kilometre amount. Metered taxis are administered by the City of Cape Town, and as such are restricted to designated taxi ranks. This means that in order to make use of them, you either need to book well in advance or find one of these designated areas.
Aside from this minor restriction, metered taxis offer a reasonable way to get around and see Cape Town.
But maybe you'd like to get in some exercise while you sight see?
Car Hire: Make Your Own Plans
The sights of Cape Town are spread far and wide. Tourists can choose from the Company's Garden in the city centre, to Cape Point Nature Reserve in the South. You might want to visit the Constantia Winelands, or go further afield to the Stellenbosch and Franschhoek wine routes. There are whale watching opportunities in Hermanus on the Southern Coast to the East, the wild West Coast stretching northwards or what about a road trip along the famous Garden Route?
It is possible to combine a number of transport solutions in such a way that you can visit all these options. Or you could just hire a car, which is naturally our favourite way of getting around.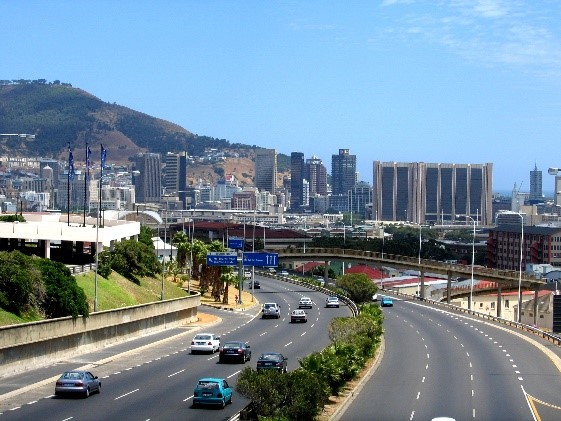 A hired car will cost more than many other types of transport – starting at about R300 a day – but makes up for it in versatility. Access to a car allows you to plan your trip on your own time, and explore as far as you feel like. A car also gives you an easy place to store valuables while you explore on foot, giving you an extra piece of mind.
Like any of your other choices, it does have drawbacks:
Aside from the price of the car hire, you will need to budget for petrol usage
Parking is often a problem in the crowded city centre.
Driving yourself can mean getting lost. Often.
You will need to ensure that you have an international driver's license.
Cape Town is also home to a uniquely South African phenomenon. These men and woman – often wearing reflective vests – watch your car in exchange for some loose change when you return. Keep some change on hand to tip your car guard a couple of Rand when you've been gone for a while.
If you do decide to go with the car hire transport option, you'll need to do some research to make sure you pick the best car for your needs. With a bit of searching it is also possible to find special deals, making your trip a little more reasonable.
Many car hire companies offer their services at the airport, so if you don't manage to pre-book a car, you needn't worry about being stranded.
City Sightseeing Bus: An Educational Meander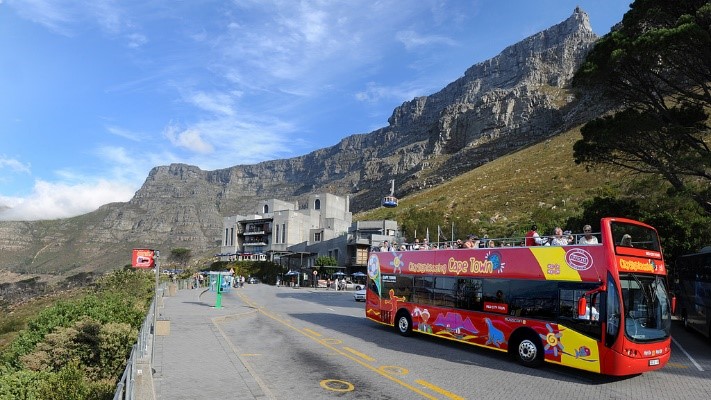 For one of the most interesting and scenic modes of public transport in Cape Town, tourists can't do much better than the City Sightseeing bus – although be warned, this is not for those in a hurry!
Buying a ticket for these scheduled double-decker buses lets you get on and off at any of the stops, and includes an audio commentary for all major attractions on the route. Your ticket is valid all day, giving you plenty of time to hop off and explore.
Routes available for tourists include:
The Blue Route through the Southern Peninsula and the Constantia Winelands (home to the oldest wine farms in the country)
The Red Route through the city, including a stop at the Table Mountain Cableway.
One of the drawbacks of this particular transport option is the price: at R170 for a one-day ticket it is not the cheapest option available, but for those interested in exploring the landmarks of Cape Town in a novel and informative way, it's hard to beat.
Metrorail Trains: All Those People Can't Be Wrong
The Metrorail Train system is quite possibly the most widely used mode of public transport for ordinary Capetonians, with more than 732 000 passenger journeys every weekday. That said, its broad use among local South Africans doesn't necessarily translate to ideal transport for tourists in Cape Town.
The trains offer access to much of Cape Town and beyond, while not straining the wallet overmuch – a first class ticket costs about R10 – they are not always particularly punctual. The Metrorail system also has a reputation for being dangerous at the wrong time, so it is advised that tourists be aware of their belongings and travel only 6am to 8am and 4pm to 6pm.
Or you could go truly local, and try something different.
Minibus Taxis: For the Adventurous Spirit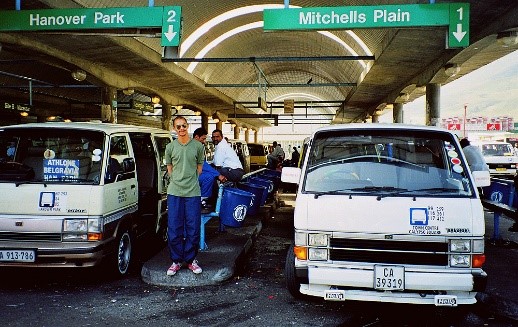 The fabled minibus taxi is a ubiquitous part of South African life that nevertheless seem a bit of a shock to those not familiar with them. These often battered vehicles follow rules and laws that are seemingly their own, stopping wherever and whenever they like, and maneuvering through traffic with a vaguely destructive efficiency. In peak hours they will be stuffed full of as many people as the taxi can possibly carry, so if you're claustrophobic it's best to avoid them.
Using this novel form of Cape Town transport has its own rituals:
Each taxi will have a fare collector shouting out the direction they're going, or else a sign on the dashboard. So keep an eye and ear out. A driver hoots to indicate that he's still got space.
Raise your hand to signal the taxi. They'll be happy to stop no matter where you happen to be standing.
Payment is always cash – make sure to keep a handful of change with you, as drivers won't always be able to help out with this.
When you get near to your destination, simply tell the driver. They'll find a spot that's convenient (for them) to stop – it's helpful if you use a landmark for this.
Minibus taxis are not expensive – short trips can cost as little as R5 – but a transport option for tourists in Cape Town, they are not for the faint of heart. If you do decide to brave it though, it is an exciting and often fun way to travel and interact with locals.
Bicycle: Cardio and Sightseeing
With the Cape Town Cycle Tour claiming the distinction as the largest timed cycle race in the world, you can bet Capetonians like to get around on bikes.
There are a number of options for tourists to get their bicycle fix when visiting the mother city. There a number of tour operators who offer bicycle based options, such as:
These sorts of tours usually cost between R400 – R600, and include the use of a bike and helmet.
If you'd rather find your own way around, there are a large number of choices out there, including drop-and-go options. Rates can be hourly or daily, so it's best to do some research and make sure you're getting what you need.
Walking: Find Hidden Treasures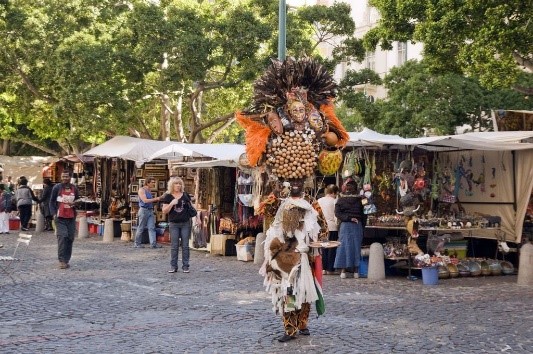 While many of the attractions available in Cape Town require transport beyond the city bowl, there's also a lot to see in town itself. The small size of the city centre makes walking an easy way to see the sights, and will often turn up hidden gems not found by travelling in a taxi or car.
There are a number of walking tours to enjoy in the city, including the adventurous Tunnel Tours.
If you'd rather make your own way, the Company's Garden is an oasis in the city that is home to:
The Houses of parliament
The South African National Gallery (part of the Iziko Museums organization)
Cape Town city centre is also home to such attractions as Greenmarket Square, St George's Mall and the historic Bo Kaap area.
Unfortunately, walking in Cape Town also presents its own challenges. Tourists should avoid dark, isolated areas, stay in groups, and keep any valuables – including cameras and phones – out of site. While South Africa's reputation for danger can be often over exaggerated, it is nevertheless best to exercise a degree of caution and common sense.
If that sounds to tiring, or you want to explore further afield, there is a better option.
Bonus Option: Helicopter
Yes, for those who like to do things a bit differently, you can explore Cape Town from the air. There are a number of options, with prices starting at about R2500.
While this is obviously not the cheapest option, and definitely not for those who are wary of heights, it does offer a unique view of Cape Town and surrounds.
So why not live a little?